Been kind of busy and tired, and when I've had time I've been playing around with WP3's custom posts and taxonomies (because I'm a geek like that). But at any rate, I've watched several things in the past week:
Moyashimon. With Channaka and Kato Natsuki. It was cute and cracky and amusing. Kato Natsuki really knows how to work the leather… in spite of her germ-infested toes. ¦D
Unubore Deka. Watched basically because Kaname Jun is in it. Ikuta Toma was a plus, too (I'm not into JE, but I like him). Anyway, it was hilarious, so will keep watching. Also? Kaname Jun. In pink pants. Dancing and grabbing himself. Need I say more?
First two eps of Burn Notice. I actually had not watched before, figured I should. It was a lot of fun, although so far Michael is the only character I'm really loving. He's enough, though, and Fiona did grow on me in ep 2. Which means I have 3 seasons of catch-up to do.
White Collar season 2 premiere (okay, so this is neither a new show, nor new to me). It's great to have Marsha Thomason on as a regular, loved Peter and Mossie's secret meetings in the park. Didn't love the greenscreening in the Let's Hide Tiffany Thiessen's Pregnancy scene. Loved Neal, obviously. Also, I think it was a good setup for the season, and I'll probably make a longer post about it.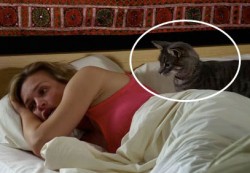 Covert Affairs. So far? Really promising. I already love Annie (I admit, at least in part because she has a cat that looks like my Otto). Chris Gorham's Auggie is probably my favorite element of the pilot. Will probably make a longer post about this one too.