So quick thoughts, because of the time:
→ First instance of Hana beating up Momo!
→ Again with Ryotaro's ingrained kindness: wanting to give the keyholder back to the bully, because it was the right thing to do.
→ First glimpse of That Guy (spoiler!)
→ Momo saves a little boy, aww. Again, Momo was always decent, under the hooliganism.
Not so quick thoughts:
Well, two things, about Ryotaro. The first has to do with something people have brought up in the comments to the last post, and it's about the type of hero Ryotaro is.
I don't really understand it all, but I understand it's something I have to do.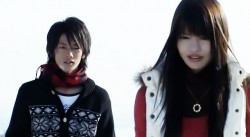 He's a wimpy little guy with bad luck, he's not really anyone's idea of a ~potential hero~, and yet when it comes down to it, he's going to do what needs to be done, because it's fallen in his lap, and he can't turn his back on it. (Again with Ryuki, it's a lot like the way Shinji decides to become a Rider simply because he wants to protect people… the difference being that Shinji kind of just jumps into it blind, while for Ryotaro it's more thought out). Anyway, in the end, my favorite heroes are the ones that you wouldn't have ever placed a bet on (Kagami), the ones that just keep going, doing what needs doing, without ever acknowledging maybe they're in over their heads, that they're only human (Hikawa, obviously).
The other thing I liked in this episode… well, it's two things. First, in his haste to return the keychain, Ryotaro actually enables the Imagin to grant Tetsuo's wish. It wasn't really dwelt on, but the fact remains that in doing what he considered to be right, Ryotaro messed up. Put it together with Hana's warning later, that they can't change the past, and Ryotaro's insistance to do just one little that will make things better… well, one can certainly see how this might eventually cause problems.
(I actually don't know how much of a problem this does or does not cause, although I have goten to Yuuto warning him about it… so please don't spoil me).
And finally, because it just does not ever get old…