And so we get to Ryutaros. I'm not really sure how I feel about him. Sometimes he can be fun(ny), and certainly liking puppies and kittens is cute, and his color is purple, but the fact that he's a willful brat means that ultimately I tend to find him very tiring and frustrating, sometimes outright annoying. :D;
Also, so far there's really hints of there being more to him than "willful brat", which means he's just not that intriguing as a character.
Slightly more intriguing is his assertion that someone "put it in my head" that he's supposed to defeat Ryotaro. He doesn't know who, but he says that that's what all Imagin are like. Does he mean they're doing what they're doing because someone put it in their head and they don't know why? This same person also gave him his very own pass to ride the Denliner, which means unlike the others, he can't be kicked out. Or at least, that he doesn't need Ryotaro to share his pass with him.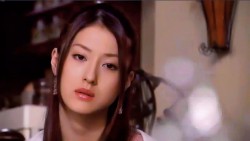 Aside from Ryutaros, this episode Miura trying to hypnotize Ryutaro and hypnotizing Airi instead, and she went into a kind of dreamy haze where she sort of remembered, and we see that the telescope reminds her of going to look at the stars from an observatory with a man, while Ryotaro waits happily for them. So she has Ozaki take her there, and seems to think she's with the man from her memories. By the time a very aprehensive Ryotaro finds her, she's forgotten everything again.
Oh, and she had The Watch, with the inscription "The past should give us hope".
And incidentally, we see a lot more of the mystery guy who's constantly checking his clock. Oh gee, I wonder if the two clocks are related. ¦D
One last thing, re: something that came up in ep 1: Ryutaros possessed Ryotaro at the same time as Urataros, so that small issue with the sand remains an inconsistency.