This is an extremely belated post about A Study In Pink, which means that it's actually more about the episode in the context to the rest of the series.
Really, if you start thinking about the fact that there will be more Sherlock in the future, then it's easy to guess that eventually we'll look back on these episodes and that primarily all three, not just the first one, are about how Sherlock and John's very unique relationship began and started to develop. It's actually so obvious that it might not even merit mentioning, except for how in the course of just three it begins, grows, changes, starts to crack around the edges, and ultimately deepens so much.
To me, A Study In Pink isn't simply "this is how they first met"; in reality, it's "this is why they started walking this path together". Because when you think about it, they're really not a very likely pair, either of them. John begins the episode in a very dark place, a place where he doesn't like his life or himself very much, and that's not usually conducive to developing a strong relationship with others; and Sherlock… is Sherlock, and being Sherlock isn't conducive to developing any sort of relationship.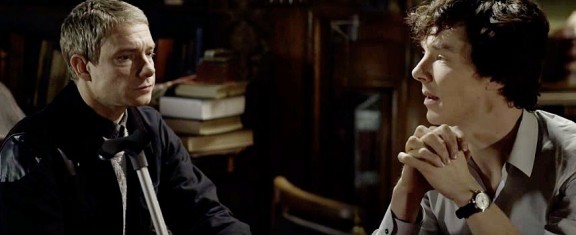 There's two questions: what made Sherlock become interested in John as a person and potential companion, and what kept John from turning on his heel and walking in the other direction as fast as he could. And it's interesting because although you can gleen answers to either question, my personal opinion is that the focus is subtly on John's side, because that's how it always was. The story of Sherlock Holmes, from the beginning, was told primarily through Watson's eyes, so it's fitting.
The obvious answer as to why John didn't just stick around to share the flat, but went with Sherlock, not just the first time, but every time after that, is that in his own way he was just as bored as Sherlock gets without stimulation, former military having a hard time adjusting to civilian life, etc. He craves danger, but maybe wasn't prepared to really admit it – "Enough for a lifetime, far too much" – until Sherlock asks "Want to see some more?". And although that's all true, it doesn't really explain why he becomes Sherlock's friend. Ultimately, it's as simple as he likes Sherlock. He likes his intelligence, is fascinated by it, obviously, but John also just likes him, Sherlock, difficult though he is. And I think you can pinpoint the exact moment John realizes this.
"That's not what people normally say".
"What do people normally say?"
"Piss off".
And that's the moment. For the first time that we see, John cracks a smile, and that's when he gets Sherlock, at least a little bit, and realizes he likes the guy after all. After that will come the cab chase, and then laughing together about it, and by then they're in it together, even though John doesn't really know much about Sherlock just yet. And although Sherlock has surmised a lot about John, he doesn't know him either. He didn't expect at all that John would kill for him, he's kind of floored by it, and then they're laughing again, and bantering, and when Sherlock simply asks "Dinner?" you get the sense that John is no longer a (socially acceptable) stand in for the skull. By then, I think that for Sherlock it's ceased to be just about having someone to bounce ideas off of and it has become about spending time with someone whose company he actually enjoys.